Meet Jessie Morton, the BID's Outreach Coordinator. She brings over a decade's worth of experience running medical and outreach programs to Central Square. An integral part of our team, Jessie works daily to navigate the social service landscape on behalf of our at-risk and homeless neighbors. Learn more about Jessie and her vision for the Central Square BID below!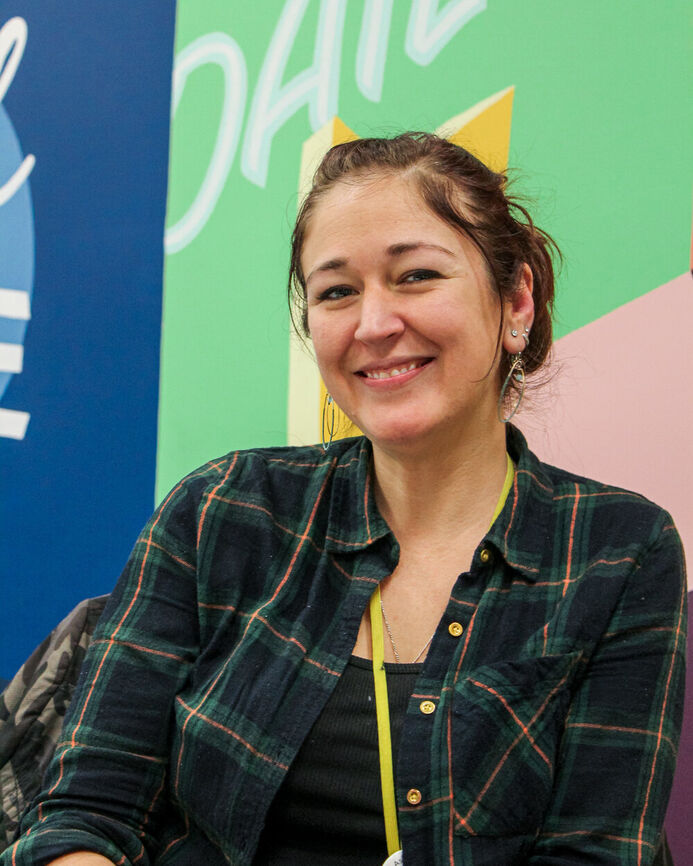 Tell me a little bit about your background.
I'm relatively new here — I've been adopted in. For about 10 years now, I've worked deeply in street outreach focus with the homeless. I first started working with homeless youth through Volunteers of America. Then I moved to Baltimore, where I worked at Johns Hopkins, developing and running an outreach program there working with young drug users. I was doing a lot of HIV and Hepatitis C testing, case management, and referral care.
Then I came up to Boston, where I worked at Bridge Over Troubled Waters running their medical outreach program. If you're familiar with the big white van in Harvard Square — that was my baby for a long time. In that program, we opened up a medical clinic, and I worked with homeless youth from ages 14 to 24.
Tell me about your role here at the Central Square BID as the Outreach Coordinator.
One of the big things that I thought was really cool about the Central Square BID is combining social services with a Business Improvement District. It's not something I had thought a lot about, but meeting Mike and seeing what he's passionate about — for homeless and at-risk folks — made me feel like this is a really good thing to build and work on together.
I didn't start working with clients immediately, because first you have to figure out what the need is in the community. The first thing I did was go to every single provider I could think of, introduced myself, and found out what I could help them with and where the gaps were.
I've had the opportunity to collaborate closely with a lot of different providers. There are some great community partnerships that we feel very fortunate to have built relationships with — The First Step Van, Somerville Homeless Coalition, On The Rise, Food For Free, and Cambridge Multi Service Center are some of the main ones. Together we've been able to figure out what are the gaps and where are their needs as these programs develop. One of the big gaps is the collaboration between everyone, so I'm trying to become the "glue" to fill in and find the gaps.
Tell us more about how you collaborate with some of those service providers.
The First Step Van is one of the great providers that we work with. We do a lot of outreach together fairly regularly. They're a great resource to have.
On the Rise is another amazing provider — I work very closely with some folks who really benefit from the fact that they can go there. Whether it's taking a shower or just a safe place to relax, especially for those people who may come from a background of domestic violence or assault, it's a really safe place for them to be.
Food For Free gave me a key to their freezer where they store microwavable meals from the Harvard and MIT cafeterias. I usually go there and grab four at a time, and as I find people who missed a meal, like the lunch at the Salvation Army, I can hand one out to the in-need and at-risk people on the street in Central.
What do you like about working for the Central Square BID?
One of the cool benefits of this program is that it provides people with opportunities that you don't typically have in a nonprofit setting. For example, there are pop-ups going on in our closed store fronts. Having the opportunity to collaborate with folks to create services to work with the homeless and at-risk people around here is invaluable.
Look at Pop Central. People can bring donations to Pop Central, and I go through them and take what I can give to my clients. For whatever I cannot give to my clients, like bathing suits, Pop Central will clean and sell them. The proceeds will be used to get items like food, hand warmers, long-sleeve T shirts, and big coats, etc. to give back to people in need. All the funds go back to helping at-risk community members, and donations like toys can be redistributed to programs like Cradles to Crayons, On The Rise, and other programs in the community.
What are your goals for the BID's outreach program?
I think one of the biggest things is nailing down how to better collaborate and communicate with all the providers in Central Square. This includes how we're working with clients and how we can assist each other in working with those individuals so the work we're doing is not contradicting.
Often times, the housed community are the people who are served with all the improvements happening in the district. It's easy to forget that a part of the community is living on the street. A lot of them are people who grew up in this area and this is their community. It would be great to activate some of the spaces to bring people together, start conversations, and learn about each other. I would love to see community meals, where everyone comes together and breaks bread. It's kind of a big goal and it would require a lot of collaborations with the businesses, but I would really want to see that.
How do you work with the Block by Block Ambassadors?
The ambassadors are super helpful because they're always throughout the square and I can only be in one place at one time. If I'm looking for someone, they can let me know, which is really cool. The other day I got a call saying: "Jessie, I'm calling an ambulance. Can you come over?" It's like you've got some eyes and ears out there, and I can just pop up when and where I need to. They help me out a ton.
Anything to look ahead for this year?
One goal that I have for this year is to figure out how to create a place where not just the housed community feels comfortable going in to use the services, but also create a space where the unhoused community can use some of the empty storefronts. I really love the idea of using those pop-up spots as potential sites for community integration. Maybe it's a thrift shop, where once a week an unhoused person can take a couple of items that they need, or like what's happening at Pop Central, where you donate and the physical goods and proceeds go back to help the homeless.
On the flip side, what is your current challenge?
I'm always trying to figure out donations. We have a limited monthly budget for my operation, so I'm always reaching out to the community for donations of things like healthy snack food, winter clothing items, hand warmers, or gift cards to places where they can buy new clothing or a cup of coffee to sit down and enjoy the warmth. Storage is also a challenge because I need to think about where to put these donations once I get them. As my client base is growing, it would be difficult to do it all on my own. Because of that I'm really trying to partner up with more outreach programs, so that if they know my client we can do things separately and save time. I'm really trying to be more preemptive.
What is your favorite part of working in Central?
This is such a vibrant community and everyone pretty much knows each other. If you walk down the street, you see art everywhere. The murals are gorgeous. There is a true sense of localness here. The community really values each other and puts a lot of intention on retaining the specialness and vibrance here in Central Square. Plus the food is amazing — Brookline Lunch is a big favorite.
Anything else you want people to know?
If anyone would like to chat about donating items or ways we can collaborate, they should reach out jmorton@centralsq.org!